Catrina Nonn liked the way Charles Rehm made her laugh – even when his jokes were not funny.
She expected cocktails and he came ready for dinner on a blind date in June 2010 in Lafayette Square. They had so much fun they forgot to order food.
Catrina's trip to Costa Rica a few weeks later underlined her eagerness to share the new experience with her recent friend. They were engaged in Beverly Hills, Calif.
Their summer wedding, with ceremony in the Jewel Box at Forest Park and reception nearby in the Zodiac Room of the Chase Park Plaza, focused on St. Louis landmarks. The decor of the reception room inspired a theme of "written in the stars" and "man in the moon" photo booth pictures.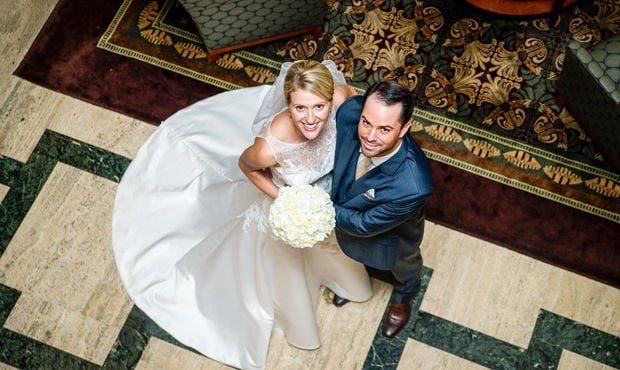 Images: www.sheindressau.com
CHARLES
What do you love about your new wife?
I love how caring she is, she pays attention to the details and always puts other people first.
What "snapshot" from the day stands out in your mind?
I was waiting at the altar with our pastor when the string quartet started playing the processional song. All of the brides were in the back room of the Jewel Box and I could tell they did not realize the procession was supposed to begin. I had to flag down one of the groomsmen to go knock on the door and let them know we were starting. But the moment Catrina walked out, she was beautiful and well worth the wait.
Was there a signature look that carried the theme?
Champagne and navy were the colors of our theme which worked in a few different ways. First, they are very elegant colors. They also are the colors of the stars in the night sky, which worked with our theme, "It was written in the stars." And lastly, our cake topper was small champagne glasses with colored sugar beads pouring down the side of the cake that looked like champagne.
CATRINA
How did Charles propose?
We were in California because one of his friends was getting married. We checked into the Beverly Hills Wilshire. I assumed we were going to dinner at the hotel's restaurant, but Charlie got off the elevator on the wrong floor. He had a key to a door that opened up to the hotel's terrace that overlooks Rodeo Drive. There were red and white rose petals that led out to a small glass table with a bottle of champagne. We walked out onto the terrace and, right in front of Tiffany's high above Rodeo Drive, he got down on one knee.
Your wedding in a single word?
Magical.
Did you wear something old?
I wore my Aunt Debbie's veil that she wore in her wedding in 1982. We had our pictures taken with the album from Charlie's parents' wedding.
What did you love about your dress?
I loved the lace overlay which, I feel, gave the otherwise strapless dress a touch of elegance.
Did you give guests a special memento?
We wanted to give them something useful but also something that was special to us. We had bottles of Twisted Belly BBQ spices from a family business personalized with our names, wedding date and one of the engagement pictures.
What was a reception highlight?
All of the speeches. I was nervous for my dad. He had never given a speech before our reception. It was perfect! The speech from my maid of honor, my twin sister, was sentimental yet funny.
What song was your first dance?
We danced to three songs that we blended. The first was "Forever" by The Beach Boys, followed by "Propuesta Indecente" by Romeo Santa, a bachata dance song from the Dominican Republic. I really wanted to dance to a song in Spanish because I'm a high-school Spanish teacher and dance coach. The last song was my husband's pick, "Timeless," by the Airborne Toxic Event.
See more at cheap wedding dresses